River Crossing Playback Theatre is an ensemble in the lower Susquehanna Valley building community through the dramatic portrayal of real-life stories. In Playback Theatre, audiences tell, watch and learn from their own stories, participating in a new common story that honors both their differences and common ground. The ensemble draws from members in Dauphin, Lancaster, York and Baltimore counties.
Founded in 2007 to serve the Healing York Initiative and bridge racial divisions in York, PA, the ensemble has grown in size and scope, leading performances and workshops across Central Pennsylvania and beyond in colleges, schools, health care facilities, retirement communities and other venues.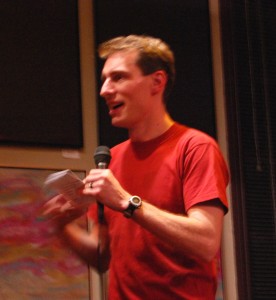 Chris Fitz is the founder and artistic director of River Crossing Playback Theatre, having trained, performed and led workshops in improvisational arts since 2003, in Pennsylvania, Germany, Washington, DC, and across the US. He holds an M.A. in International Peace & Development Studies from the Universitat Jaume I (Castellon, Spain) and a B.A. in International Conflict Resolution from Hampshire College (Amherst, MA).
More about our amazing River Crossing Playback team here.
River Crossing Playback Theatre can bring the stories in your community or organization to new life. Here's more about our workshops or performances. Or contact us at rivercrossing@jubileearts.net or (717) 382-8292 to discuss opportunities to weave your group's stories together.